Best Overall
WEN 4276 2.1-Amp 6-Inch Bench Grinder with Flexible Work Light
Premium Choice
DEWALT Bench Grinder, 8-Inch (DW758)
Great Value
RIKON Power Tools 80-808 8″ 1 hp Low Speed 1725 RPM Bench Grinder
With all the options on the market, picking a good bench grinder may seem like a tough decision.
That's why I've researched the options and made a list of the best bench grinders you can find with all the features you should look for.
List of The Bench Grinders
The 8 Best Bench Grinders for 2021
1. WEN 4276 – Best lightweight Grinder
The WEN 4276 is a grinder that weighs only 16 pounds. It's sturdy enough to remain in its place and light enough to give you some portability.
As it measures 14 x 9.8 x 15 inches, the angle grinder is quite compact and doesn't take up a lot of room in your workshop.
Its single-speed strong 2.1 AMP motor can spin the wheel at 3450 RPM with no load, which is suitable for removing dust from metal as well as deburring rough edges.
This top-notch 6-inch bench grinder comes with two wheels, both measuring 6 inches in diameter and have a width of 3/4 of an inch.
One of them is a coarse 36-grit wheel that enables you to smoothen any rough parts or remove excess material while the other is a fine 60-grit wheel that suits almost all grinding tasks.
Moreover, the installation and startup of this unit are easy, so you can start working as soon as you unbox it with no frustration.
As for the safety measures, the WEN 4276 comes with a clear adjustable eye shield that protects you from any flying fragments or scraps.
However, that shouldn't stop you from wearing safety goggles to reduce the risk of injury. And in case you want to replace your buffing wheel, you can easily remove the eye guard.
The WEN 4276 comes with a work light that provides you with adequate visibility. The overhead lamp is also adjustable so that you can direct the light and the point where you are working.
A downside is although the power of this unit is not that high, it still produces considerable noise.
With a cast iron motor housing base, there will be no wobbling and the unit will remain sturdy, even at fast-spinning speeds.
Finally, the WEN 4276 grinding machine comes with an adjustable tool rest with a drill bit that gives you the support needed when sharpening your bits and blades.
Pros & Cons
Pros
A little noisy
Expandable functionality with many accessories
Portable enough
Wheels are easy to change
Equipped with a work light to provide visibility
Durable construction
2-year warranty with excellent customer service
Great bang for your buck
Cons
Only suits DIY-ers but not heavy-duty work
Wheels must be spinning for the light to switch on
---
2. DeWalt DW758 best bench grinder for sharpening
If you're looking for a grinder for sharpening, you should consider the dewalt dw758 bench grinder.
Running on a powerful 3/4 horsepower motor, it can spin its wheels at a speed of 3600 RPM -the fastest on the list.
What makes it suitable for sharpening is that its wheels measure 8 inches and they come in two varieties: a 36-grit one for faster removal of material and a 60-grit for general grinding projects.
I like the safety and ergonomics that dewalt dw758 bench grinder integrated into this unit. The wheel guard comes with exhaust ports at the back to smoothen the operation of the machine.
Moreover, aluminum oxide adjustable tool rests are found against the buffing wheel to keep everything within your reach.
However, I didn't like the fact that they left out a work light -especially that they're not expensive to add, but they go a long way in terms of convenience.
And although it is quite compact, it is not portable because it weighs a hefty 39.5 pounds.
But generally the dewalt DW758 bench grinder machine gives you great value for your money, and I think its operation is sturdy and reliable.
Pros & Cons
Pros
Powerful motor
Compact design
Durability
Easy to adjust
Comes with a long warranty
Cons
Doesn't have a work light
The wheels can be a little wobbly
Heavy
---
3. Rikon Professional Power Tools
The Rikon bench grinder is an excellent choice for anyone looking for an affordable slow speed bench grinder machine.
Running on a ½ HP motor, it spins its 8-wheels at 1750 RPM. This makes it very effective at sharpening and removing excess material.
Admittedly, it took me some time to adjust to the awkward position of the wheel's angle grinder.
At 36.9 pounds, it's not the lightest, but it's pretty compact at 16.4 x 10.8 x 11.2 inches.
To make its operation safe, the Rikon bench grinder equipped its grinder with robust spark deflectors surrounding the wheels as well as separately adjustable eye shields.
Moreover, the cast iron base makes the unit sit sturdily in its position with the help of the rubber feet that also work on reducing vibration and noise.
I liked the extra focus they gave to the drill bit as the left-hand adjustable tool rest comes with a V-groove, especially for honing them.
Not to mention the diamond wheel dresses that help you maintain your wheel. This may also help with how wobbly the Rikon bench grinder can be.
I'd like to think the 5-year warranty is a good reason to trust in this unit's durability and performance.
Pros & Cons
Pros
Motor is suitable for home use
Solid construction
Cons
Inconvenient positioning of the grinding wheel
Substandard tool rests
Wobbly wheels
---
4. WEN 4286 Bench Grinder
The WEN 4286 is another slow speed bench grinder. Its powerful 3 HP motor spins its wheel at 1750 RPM speed.
This makes it a reliable choice when it comes to general sharpening, cleaning, deburring, and trimming.
You can switch between the two included wheels to extend their lifespan.
As for the safety features, the WEN 4286 comes with a robust base that eliminates any vibrations and wobbling. The protective glass is also sturdy and works well at keeping dust and debris away from your working area.
The combination of a slow-spinning speed and powerful motor enables you to grind and cut through hardened steel and sturdy materials.
Pros & Cons
Pros
Powerful motor
Comes with two wheels
Easy to set up
Great safety precautions
Cons
Not suitable for heavy-duty tasks
---
5. DeWalt DW756 6 inches Bench Grinder
Shaping metals is a breeze when you use the DeWalt DW756 bench grinder. Its 5/8 HP motor enables the wheels to spin at 3450 RPM, which is suitable for taking on many improvement projects.
The grinder is designed to let you position your workpiece in a way that maximizes the efficiency of the cuts. Moreover, the generous distance between the wheels allows you to do advanced projects.
dewalt dw756 bench grinder comes at a pretty affordable price as it's made in China. That doesn't compromise the quality of its construction, however, as it's a robust machine.
The dewalt DW756 bench grinder has an industrial and durable cast iron motor housing to extend its lifespan. With this long life cycle, you get a high return on your investment.
Moreover, it has rear exhaust ports to provide a better and smoother operation.
The spark deflector and adjustable eye shield further extend the safety. However, I think the time it takes to stop is a little too long.
Pros & Cons
Pros
Intuitive design
Potent motor
Premium-quality construction
Effective exhaust ports
Suitable for heavy-duty grinding
Cons
Not the best design
Can use some stability
---
6. Jet 577102 JBG-8A 8-Inch Bench Grinder JET
This bench grinder isn't made for your simple DIY jobs around the house but rather for heavy-duty, professional-grade work.
And that explains why it's so heavy at 58 pounds. It doesn't occupy that much space though as it measures 19 x 10 x 12.5 inches.
With a powerful 1 HP (8 AMP) motor and 8 inch bench grinder wheels that can spin at 3450 RPM, the Jet 577102 can effortlessly cut through the toughest materials.
Moreover, the 8-inch wheels come in two variable speed bench grinder: a 36-grit option and a 60-grit one to enable you to grind rough edges as well as finish more delicate tasks.
The enclosed, pre-lubricated ball bearings make its operation very smooth and keep its rotation consistent.
Furthermore, its massive cast iron base makes it sit sturdily on the ground to provide some stability.
And to provide you with safety, the Jet 577102 comes with a big spark deflector and eye shields that are simple to adjust. However, the addition of work lights would have gone a long way in terms of convenience.
Pros & Cons
Pros
Durable with a 2-year warranty
Stable performance
Powerful motor
Easily adjustable
Cons
Doesn't come with work lights
Not portable
---
7. Metabo DS 200 Bench Grinder
Although the Metabo DS 200 is a little more expensive than most options on the list, I think that it's an excellent investment in the long run and that its performance is worth the money.
Metabo bench grinder machine has a powerful 1 HP motor that's easy to maintain and that can spin the wheel at a variable speed according to your needs with a 3570 RPM no-load speed.
You can use it to sharpen or smoothen whatever metal you need, including even axes and chisels.
Moreover, the Metabo bench grinder is quite durable with a sturdy die-cast aluminum oxide cover as well as a fast-locking bayonet for the cast iron wheel guard protective cover.
And although it's an industrial-grade bench grinder, it's quite portable at 35.9 pounds. And at 13.1 x 12.9 x 18.3 inches, it's not the most compact, but it still doesn't require that much space.
On top of that, it doesn't produce much noise or vibration as it operates.
Initially, the Metabo bench grinder is a little hard to set up. But once you get it done, you'll get a fantastic level of performance.
Pros & Cons
Pros
Variable speeds for versatility
No vibration
Durability
Powerful motor
Accessible off button and auto shutdown feature
Cons
Set up is a little tough
A little pricey
---
8. Craftsman 921154 Bench Grinder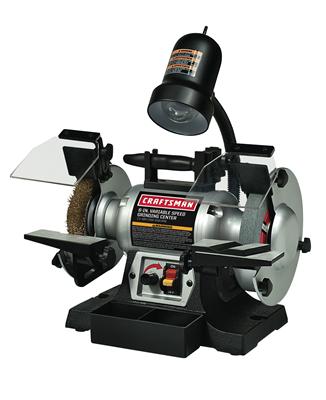 The 1/5 HP motor may not be the most impressive on the market, but it still spins the wheel of the Craftsman 921154 at a variable speed bench grinder between 2000 RPM and 3400 RPM.
And although the speed is relatively higher than most options on the market, I'd say this unit is the best bench grinder for woodworking and not metal as its horsepower is not strong enough.
At this speed, the 6-inch wheel can swiftly sharpen tool blades and chisels.
And to provide you with stability as you operate it, the Craftsman 921154 comes with an oversized cast iron base that reduces vibrations.
Moreover, the Craftsman 921154 is a wet grinding machine. This means that it has a built-in cooling system that protects its motor from overheating the workpiece.
Combining the spark deflector, cast iron wheel guard, clear eye shields, and a built-in light gives you maximum visibility and safety.
Tool rest is a little too small
Produces some hum while running on lower speeds
Pros
Reasonable price for the features
Versatile functions thanks to the variable speeds
Equipped with a wire wheel
Built-in light for more visibility
Cons
Tool rest is a little too small
Produces some hum while running on lower speeds
---
9. Delta Power Tools 23-197 8-Inch Variable Speed Bench Grinder-Best Variable Speed
If you've never sharpened metal cutting tools or blades with a speed bench grinder. Then this delta power 23-197 8 inch tool variable speed grinder. which offers more control, is the ideal option.
It's worth noting that this bench grinder model has a 5 amp induction motor. that allows you to change the speed of the spinning wheel. through rotating the speed dial's front controlling wheel between 2000 and 3400 RPM.
The benefit of such a grinder is that it provides variety as well as accuracy. since it comes with two 8-inch grinding wheels. One is 36 grit, while the other is 60 grit, depending on your grinding needs.
Additionally, the two tool rests were built individually. This will allow you to adjust each one individually to different angles. while also extending the life of the wheels.
Also, the left tool's design with a slight drill. it provides perfect angle grinding every time.
keeping your safety and comfort in mind. They had a removable water tray to keep the metal object you're grinding cool. and prevent overheating from the grinding wheels' friction with the metal.
and for maximum efficiency, they equipped it with a Work light with a separate on/off button. and an adjustable gooseneck that offers lighting for working pieces and during grinding.
Pros & Cons
Pros
A strong induction motor with variable speed settings
A removable water tray to prevent the grinder from overheating
Gooseneck light may be adjusted for more precision
Cons
Not stable or secured enough to your working space
Bottom line
Delta Power Tools 23-197 8-Inch Bench Grinder delivers the protection and variable tool rests for stability. so you can achieve the precise angle you want on your blade, chisel, or other cutting tools.
---
10. Central Machinery 3-Inch Bench Grinder with Flex Shaft- Best for Crafters
If you are a craftsman in need of a tiny bench grinder model that is capable of polishing, cleaning. and grinding small pieces of metal jewelry or trimming a picture frame. this central machinery 3-inch bench grinder is an excellent alternative.
Especially if you have a limited budget. and cannot purchase the majority of the more expensive compact designs on the market.
Keep in mind that the 31″ flex shaft included in this compact bench grinder will provide you with the excellent precision you want. while also allowing you to reach into most of the difficult-to-reach places.
since it can accept a selection of variable attachments. that can aid you in grinding, polishing, and sanding metal surfaces.
Thanks to the compact bench grinder's robust ball bearing design. It has the most suitable power and a range of speed options ranging up to 10000 RPMs.
Aside from that, it has a 3-inch grinding stone and a 1/8-inch shaft attached grinder stone. it is making it the ideal tool for any crafter's or metal grinder's workshop.
Pros & Cons
Pros
Thanks to the flexible shaft, it can reach even the tightest spaces
It features a variable speed option
Because of the two grit grindstones, greater accuracy and precision are added
Affordable
Cons
They are restricted to small places only
Not durable enough
Bottom line
you can use this central bench grinder to handle the most demanding polishing projects. without sacrificing power or efficiency. Besides, it provides additional precision and versatility at a reasonable price.
---
11. Skil 3380 6-Inch Bench Grinder Best for DIYers
If you're new be to the crafting world or bench grinders in particular. you'll love the Skil 3380 6-Inch Bench Grinder's durability, affordability, and efficiency.
Keep in mind that this bench grinder model has a strong 2.1 amp motor with a 3,450 rpm speed.
as well as for increased comfort and flexibility. They built this tool with adjustable tool rests for each of the bench grinder wheel. it provides you with greater accuracy and precision.
These tool rests are found to be a significant aspect of this grinder. especially for people who suffer from shaky hands as a result of grinding for long periods at a time.
One notable feature of this grinder is that it comes with two wheels. with different grits, one coarse and one medium. This will enable you to work with a wide range of materials.
This feature will help you sharpen most of your household items. and blades at home with the least amount of effort and safety.
The uniqueness of this grinder is the built-in led light positioned over each bench grinder wheel.
This light will make sharpening or honing any metal or blade easier. and more precisely, especially in dark conditions.
They also equipped the grinder with eye shields and an iron cast base motor housing with rubber feet. to keep it steady and stable on a tabletop for more safety and protection.
It is worth noting that these qualities will help the machine to last longer and be more efficient. Also, the grinder should be used in a safe and simple sense, with less vibrations as possible.
Pros & Cons
Pros
It has a high grinding speed for a variety of household objects
It has rubber feet for added safety and stability
LED lights are used on the device to improve visibility
It is quite quiet and long-lasting
Simple setup
Affordable
Cons
Not suitable for heavy uses
When you press too hard, the wheel slows down
The angle cannot be adjusted
Bottom line
This specific workhorse can help you save time and keep you safe within your workspace. because of its useful features such as adjustable tool rests, eye shields, and LED lighting. This is a basic and efficient bench grinder that is excellent for gardeners and amateurs.
---
12. Jet 578008 8-Inch Industrial Bench Grinder-Best Professional
Assume you're ready to launch a new small business as a contractor or construction agency.
And you need an electric 8 inch bench grinder that has CSA and CUS certifications. so you keep up with strict electrical standards and guidelines. Then this jet bench grinder is an excellent option for you.
It is worth mentioning that this electric motor of the jet bench grinder runs at 3600 RPM. and has a typical 115 volt, 11 amp motor with a 60-hertz frequency.
however, the jet bench grinder comes with a written guide for adjusting it to 5.5 amps at 230 volts.
Moreover, this grinding machine has almost everything you need to fulfill the performance. and durability requirements of a professional environment.
because it has a complete cast iron wheel guard, a single dust deflector, massive sealed ball bearings. and adjustable eye shield.
in addition to a cast iron motor housing that is appropriate for the harsh conditions of a professional setting. since it includes a pre-drilled base for stable positioning on a stand or workbench
Remember that they placed rubber feet on the bottom of the bench grinder. It ensures that it stays in place while grinding. due to the vibration of the powerful electric motor engine and heavy weight.
also, to enhance safety while using such strong equipment in a busy workshop environment. they included a switch off safety key to prevent any accidental turning on while you are working.
Last but not least, this bench grinder comes with two different styles of grinding wheels. one fine 60 grit grinding wheel and one coarse 36 grit abrasive wheel. to increase the machine's adaptability and functionality.
Pros & Cons
Pros
This type is made to last, with dust deflectors and cast-iron motor housing
Pre-lubricated ball bearings are fully sealed.
Accidents can be avoided by using a locked power switch.
The strong motor can run continuously throughout the day and night.
Spark eye guards are easily adjustable
Cons
Not transportable
Heavy
Expensive
Bottom line
The JET 578008 bench grinder is powerful and space-saving equipment. This electric motor robust machine grinds, sharpens, and smooths with accuracy and produces ideal results.
---
13. Dayton Combination Belt and Bench Grinder-Best Combination
If you want a grinding machine that combines the features of a belt and a bench grinder. this Dayton grinder machine is a wonderful option.
It is worth noting that this grinder machine is considered a slow option. with a 1/4 horsepower of 2.5 amp power and a 3450 RPM grinding wheel plus an adjustable belt.
Keep in mind that this hybrid tool provides the capability of a complete grinding machine. It allows you to sharpen, shape, and sand everything you can think of.
This grinder machine's wheel contains a coated abrasive wheel grit belt and a grinding wheel dresser. Aside from a functioning light, an adjustable tool rest, and a spark deflector.
In addition, the machine is protected from overheating. while grinding any metal workpiece with a cooling tray with an adjustable eye shield.
Last but not least, they add to the belt tracking versatility by adding an adjustable thumb knob. it makes the grits of the belt easier to adjust.
Pros & Cons
Pros
A device that combines two tools into one
For added safety, a functioning light and an eye shield have been installed.
Affordable
Aersatile
Cons
Not suitable for heavy duty tasks
Bottom line
This Dayton bench grinder combines the best of both worlds for your convenience. For further adaptability and utility, they provide a grinder with a sanding belt.
---
What Are the Uses of a Bench Grinder?
A bench grinder is a system of two wheels that are used at a very high speed to finish different jobs of grinding applications. It can be used with wood or metal depending on the strength of the wheel and how fast it spins with a variable speed bench grinder.
You can use your bench grinder to shape or buff wood if it's a slow speed grinder wheel.
If it's a fast speed grinder wheel, you can use it to make cuts through wooden pieces or metal ones.
Moreover, you can use your bench grinder to sharpen chisels and other sharp metal tools around your garage or workshop.
What Features to Look for When Shopping for a Bench Grinder?
If you're not sure what features to look for when you're buying a bench grinder, here are the things that make a difference in terms of the performance of your unit.
Size
The size of your bench grinder has a lot to do with how powerful it will be and consequently what work you'll be able to do with it.
Larger grinders are more suitable for sawing, making cuts, and filing. On the other hand, smaller ones like an angle grinder fit more delicate grinding operations such as shaping metal.
Motor
Motors with higher horsepower will be more efficient at cutting tougher and hardened metals. So if you're going to do that, go for a 1 HP motor.
½ HP would be good enough for doing medium-duty or light-duty jobs.
Speed
The speed of a bench grinder is measured in RPM (Revolutions per Minute), and it depends on the horsepower of the motor.
a grinder wheel with a Faster speeds such as 3000 RPM allow you to cut through hardened steel and stronger metals.
You can save some money by buying a 1750 RPM slow speed bench grinder if you're going to be working with wood or softer woods.
Grinding Wheel
Size
Professional work requires around 8-inch wheels that work at slower speeds but don't need much maintenance.
For faster operation and versatility, you should go for a 6-inch wheel, although these require frequent changes.
Grit
There are three major grit abrasive wheel sizes: 100, 60, and 30. The coarse 30-grit wheels are suitable for general sharpening. But if you want smooth results and accurate output, you should go for fine wheels of 60 or 100 grits.
Color
The color of the wheel can help you identify the kind of job you can do with it.
Brown wheels are suitable for heavy fettling and trimming, grey ones for every day grinding, white ones for sharpening, and green ones for fine grinding. The latter ones work well with blades and a drill bit as well as anything made from silicon carbide such as carbide tools.
Safety Features
You should make sure that the bench grinder that you get complies to the safety standards of the industry with enough safety precautions.
Spark Deflectors
Wheel guards should cover 75% of the buffing wheel and leave only 25% exposed through which you can work.
This is to protect your face and eyes from any flying fragments that result from grinding.
Eye Shields
Eye shields are transparent plastic covers found above the opening through which the grinding wheel touches your workpiece.
These also help keep any scraps from flying off and hurting your eyes.
Dust Exhaustion
Dust exhaustion systems, vents, or ports all help in getting rid of the debris and dust that result from the grinding process and which can cause considerable harm if inhaled. It also maintains visibility so you can see what you're working on.
Cooling
If your grinder isn't a "wet grinding machine," you'll need a bucket or a pot with water to dip your workpiece in to keep them cool.
Wet grinding machines are grinders that have built-in cooling systems to prevent them from overheating.
FAQs About Your New Bench Grinder
Do I need a variable speed bench grinder?
With a simple answer no. Although variable speed grinders might be quite handy. you can still do your tasks of grinding applications without one.
Keeping in mind that single-motor speed grinders are just as efficient as variable-motor speed grinders. because how much pressure you apply to the grinding wheel is what makes the difference in the performance.
It's worth noting that having a variable speed grinder allows you to sharpen woodworking cutting tools at a low speed. Alternatively, a high motor speed can be used to grind down a bolt end or remove rust spots from car parts.
Should I get a 6-inch or 8 inch bench grinder?
Bench grinders with an 8-inch diameter are designed for professionals. While most people searching for adaptability and multifunctional usage. A 6-inch grinder will serve them well.
An 8 inch bench grinder, on the other hand, will serve you well. If you are performing a complicated task of grinding applications.
If you're a DIYer who's never used a bench grinder before, a 6-inch bench grinder model should be quite powerful enough. to polish, sharpen, and repair a variety of gears and utensils.
One disadvantage of having an 8 inch bench grinder wheel is that it is slower. but requires fewer wheel changes. There is less maintenance required as compared to 6-inch bench grinders.
While an 8-inch bench grinder costs more you'll save money in the long term. Because you will need to replace the wheels more regularly than the 6-inch grinders
Can a bench grinder be used on wood?
Yes, you certainly can. A bench grinder may be used to reshape or polish any wood product. However, it will involve the replacement of the grinding wheel.
While bench grinders are most used for polishing, forming, and buffing metal. they may also be used on wood.
Keep in mind that your bench grinder can sand, carve, shape, buff, smooth. or polish a wide range of woods with the proper wheel.
Bench grinders, on the other hand, are best utilized on hard materials and should not be used on very soft woods.
Final Thoughts
While all the grinders I've mentioned are great, I'd say the dewalt dw758 bench grinder is the best overall. Not only is it affordable, but it's also versatile, fast, and has ample power to finish almost any job.
If you're looking for something that'll cut through tough materials without heating up, the WEN 4286 is a perfect candidate -although it's a little slow in its operation.
For a budget choice, go for the dewalt dw756 bench grinder as it's very affordable but still provides you with good performance and speed. Finally, I think the Craftsman 9-21154 is a good choice for someone who's looking for the ultimate versatility as this unit comes with variable speeds -a feature that none of the others have.