Best Overall
DEWALT DC390B 8-Volt Cordless Circular Saw
Premium Choice
PORTER-CABLE PCC660B Cordless Circular Saw
Great Value
BLACK+DECKER 20V MAX 5-1/2-Inch Cordless Circular Saw (BDCCS20C)

Cordless circular saws are clever tools that provide you with superb maneuverability to reach tighter places and angles without compromising on cutting capabilities.
But a good cordless circular saw combines more than just portability and strength. If you're not sure what else to look for, I've made a list of the best cordless circular saws to narrow it down for you.
Comparison Table
The 7 Best Cordless Circular Saws for 2021
1- DEWALT DC390B 8-Volt Cordless Circular Saw – Best Overall

The DeWalt DC390B is a great battery-powered circular saw that suits even beginners.
Running on an 18v motor, it can spin its blade at 3700 RPM. This means that you'll make use of it, whether you're building a simple bookcase or a complex wooden deck. It covers the whole DIY spectrum.
It measures 8.9 x 15.9 x 10.5 inches and weighs 6.3 pounds, so it's pretty portable, easy to carry and maneuver.
Moreover, the carbide-tipped blade makes quick rip cuts as well as crosscuts with absolute ease.
The DeWalt DC390B is equipped with a robust magnesium shoe and an upper guard that ensures stable performance.
However, the fact that you have to purchase the batteries separately isn't the most cost-efficient option.
The DeWalt DC390B comes with a 3-year limited warranty, a 90-day money-back guarantee, and a year's service plan.
Pros & Cons
Pros
Capable of cutting 2x lumber at 90 and 45-degree angles
Works cordlessly
Quiet and efficient operation
Carbide-tipped blade
Cons
Doesn't come with batteries
Not suitable for commercial use
Bottom Line:
If you're only setting out on your journey with circular saws or if you're into casual DIYing, the DeWalt DC390B will suit you quite well. It offers stable performance and solid safety features.
---
2- PORTER-CABLE PCC660B Cordless Circular Saw – Runner Up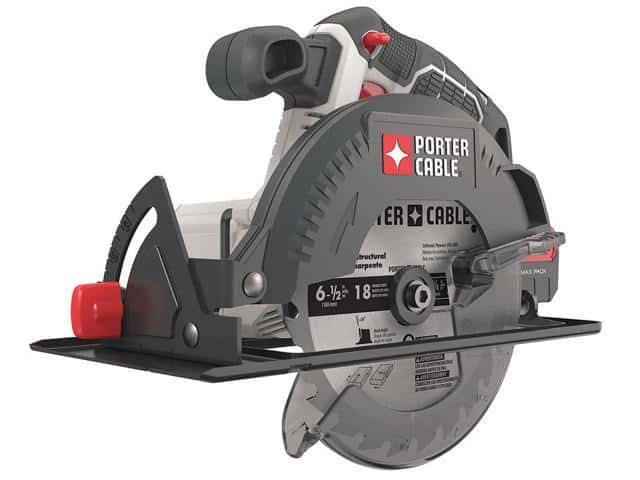 This 20v circular saw can work at an astonishing speed of 4000 RPM, which suits more aggressive cutting applications.
It's a great choice for professional contractors that are looking for a powerful tool that's capable of cutting through almost any material.
Moreover, the PORTER-CABLE PCC660B measures 15.2 x 9.6 x 8.4 inches and weighs 6.5 pounds, which means that it's relatively portable and compact.
It also has a 6.5-inch carbide tooth that's capable of making 2-1/8-inch cuts and suits a wide array of applications.
An impressive additional feature on the PORTER-CABLE PCC660B is the beveling shoe that can pivot up to 50 degrees to allow you to work on non-traditional cutting applications.
Its steel construction makes it quite durable, while its contoured and over-molded handle provides the user with ultimate comfort regardless of the duration of the operation.
Pros & Cons
Pros
Strong 6.5-inch carbide blade
Fast operation
Reasonable price for the features
3-year limited warranty
Cons
Has a cheapish feel
Shoots sawdust into your face
Blades aren't easy to change
Bottom Line:
The PORTER-CABLE PCC660B provides you with amazing value for your money. It's versatile, durable, and accurate. However, its dust extraction system is subpar, and it may be a little hard to change the blades.
But that's completely justified by the overall efficient operation of the tool.
---
3- Black & Decker BDCCS20C 20V Cordless Circular Saw

The Black & Decker BDCCS20C is a compact, and portable circular saw that is super easy to use.
Its very affordable price and how much value for your money it gives you can't be overlooked when discussing its advantages.
Like the DeWalt DC390B, it also doesn't come with the battery. But it's compatible with any of the Black & Decker 20v max systems.
Moreover, this saw comes with many features, including bevel adjustments with detents at 45 degrees as well as 90 degrees. This maximizes the accuracy of your angled cuts.
The Black & Decker offers a high torque, 20v motor, and a quick 5.5-inch cutting blade. The duo enables you to make cuts as quickly and smoothly as possible.
There's no hassle when it comes to making adjustments as you can apply them to the depth of the cut without any tools.
This saw measures 14.2 x 8.4 x 9.2 inches and weighs 7.55 pounds. It's not the lightest on the list but still easily maneuverable.
Pros & Cons
Pros
Super affordable
High torque motor
Tool-free depth adjustment
Compact design
Cons
Doesn't suit more professional use
Bottom Line:
Coming at a very reasonable price, the Black & Decker BDCCS20C is a bare tool that's capable of making fast cuts and delivering a smooth finish thanks to the high-torque motor.
---
4- DEWALT DCS391B Cordless Circular Saw

The DeWalt DCS391B comes with plenty of power as it's equipped with a 20v motor that spins its blade at a speed of 5150 RPM and a no-load speed of 5250 RPM.
This means that you'll be able to make cuts with incredible speed and ease.
However, how powerful it is can be a little hindered by its slightly heavier weight.
It's also not the most affordable, but it's quite durable and has a magnesium shoe that helps maximize cutting accuracy.
The DeWalt DCS391B comes with a 6.5-inch carbide-tipped blade that cuts at a depth of up to 2-1/4 inches at 90 degrees or 1-5/8 inches at 45 degrees. It also has a 0-50 degree bevel capacity that gives it maximum versatility to handle a wide array of applications.
Moreover, this saw comes with a molded rubber grip that provides comfort and balance to give you full control over the device without causing fatigue.
Pros & Cons
Pros
Superb performance
The battery is interchangeable with other DeWalt tools
Comfortable
anti-fatigue grip
3-year limited warranty
Versatile performance
Reliable blade brake
Cons
The battery isn't included
Bottom Line:
The DeWalt DCS391B is one of the most powerful and quickest saws on this list. It's quite capable and can make quick and accurate cuts. The only downside is that it's relatively heavy.
We dedicated an article for DEWALT DCS391B Review for in depth look into this cordless circular saw.
---
5- WORX WX429L WORXSAW Compact Circular Saw -Affordable

This cordless mini circular saw is equipped with a flat, round blade that's able to cut through a wide array of materials.
This is thanks to the impressive 120v motor and the blade that spins at a speed of 3500 RPM.
Using the WORX WX429L WORXSAW, you'll be able to cut any sheet materials, including plastic, metal, wood, and some stones.
Moreover, this saw is very easy to operate using one hand as it measures 15.1 x 4.2 x 5.8 inches and weighs only 4.4 pounds. It also enables you to change the direction of the handle to the left or to the right, according to your needs.
The safety trigger and parallel guides provide you with accurate cuts and safe operation.
Finally, the vacuum port provides you with easy cleanup and keeps your work area visible.
Pros & Cons
Pros
Very affordable
Compact and lightweight design
Easy to control
carry
and store
Easy adjustments
Comes with many safety features
Cons
Not as powerful as bigger saws
Bottom Line:
At an ample speed and great power, the WORX WX429L is one of the best compact circular saws out there. Its affordable price also makes it a huge bang for your buck.
---
6-Makita XSS02Z LXT Cordless Circular Saw

The Makita XSS02Z LXT is another 18v cordless circular saw that any DIY enthusiast or even some professionals would make great use of.
It can spin its blade at an ample speed of 3700 RPM, which enables you to cut through various materials easily. You can use it to make 45-degree angle cuts or 50-degree bevel cuts.
Moreover, the heavy gauge base enables you to make the smoothest and most accurate cuts. The Makita XSS02Z LXT is also quite durable, thanks to the machined precision base.
It's compact enough as it measures 9.7 x 14.1 x 11 inches, but it's not the lightest at 7.3 pounds.
Pros & Cons
Pros
Machined precision base
Versatile and plenty of cutting capabilities
Lightweight design
Interchangeable batteries
Quiet and easy operation
Cons
Doesn't have a blade brake
Confusing battery requirements
Battery isn't included with the purchase
Bottom Line:
If you're looking for a cordless circular saw to use on-site, this compact and powerful saw is one of your best options. It comes with an adequately powerful motor that spins its blade at 3700 RPM speed to provide the versatile cuts it's capable of with strength.
---
7- Ryobi P508 Cordless Circular Saw

This cordless compact circular saw is a very budget-friendly option. Yet, it's capable of spinning its blade at a speed of 3800 RPM, relying on an 18v motor.
The Ryobi P508 comes with a front pommel handle that allows two-handed operation for better control. It's also equipped with GripZone over-molded grips to provide incredible comfort and prevent fatigue with extended periods of use.
Since its blade is on the left side, it gives you great cut-line visibility that enhances the accuracy of your cuts.
Moreover, the Ryobi P508 can make 2-7/16-inch cuts with a bevel capacity of up to 56 degrees. It also has a powerful and accurate 7-1/4-inch 24-tooth ultra-thin kerf carbide-tipped blade.
This blade gives you a 26% increased cutting capacity.
The Ryobi P508 measures 13.5 x 7.2 x 11 inches and weighs 6.6 pounds, so it's easy to maneuver and transport.
Pros & Cons
Pros
Long-lasting battery
Good balance and lightweight
Smooth and maneuverable
Brushless motor increases cutting power
Handy and quite good for depth cuts
LED lights
Cons
Sometimes overheats
Batteries drain quickly
Bottom Line:
Any DIY enthusiast would love to add this practical and efficient tool to their arsenal. It's a brushless circular saw that is powerful, lightweight, and compact.
However, you should count on using it for extended periods of time. While it's comfortable to grip, it easily overheats, and its batteries drain pretty quickly.
---
Why Should You Use a Cordless Circular Saw?
The first thing that makes cordless circular saws great is how handy they are. All you have to do is charge them, and you're free to use them for as long as the battery allows. 
You're not limited to work in areas where a wall outlet is available.
You can carry them anywhere and work without having to fix them to supporting frames as they're usually lightweight.
How to Pick a Circular Saw?
Before you pick a circular saw, there are a couple of things that you should take into consideration first.
Blade Size
How big your saw's blade is will dictate the toughness of the materials you'll be able to cut through. Naturally, the tougher your material is, the bigger your blade should be in order to be able to penetrate it.
Blade Adjustability
You'll need to make frequent adjustments to your blade to fit the kind of cut you want to make. That's why a saw with a blade that's easy to adjust is always better.
Weight
Cordless saws are hand-held devices and are usually lightweight. The construction contributes to how heavy or light your device is, so look for lighter materials such as magnesium.
An ideal circular saw is light enough to maneuver yet strong enough to finish the job at hand.
Durability
You should look for a saw that will be able to withstand the kind of jobs you'll do as well as last for the required duration. Its blade should also be durable and last as long as you provide it with good maintenance.
Power
Your saw's ability to cut through a certain kind of material doesn't only depend on the size of the blade but also the power of the motor.
A small change in the amperage of voltage can go a long way. So the tougher the work you'll do, the higher the numbers should be.
Ease of Use
Make sure your saw is easy to handle, control, and has a comfortable grip.
The ergonomics of the device will drastically affect the way you operate your tool.
Final Thoughts
The quest to find the best cordless circular saw isn't an easy one, but the list above can help you narrow down the choices.
If you need even further narrowing down, then I'd recommend the DeWalt DC390B for its versatility, reasonable price level, and power.
On the other hand, the Black & Decker BDCCS20C is a great, more affordable alternative that provides you with portability and efficiency.
If you're looking for the fastest or smoothest finishes on a lightweight model, then you should opt for the PORTER-CABLE PCC660B.
Finally, if being light is a concern of yours and you want a budget-friendly option, then I'd recommend the WORX WX429L.