Best Overall
Grizzly G0634Z Planer/Jointer with Spiral Cutter head, 12″
Premium Choice
JET JJP-12HH 12″ Planer/Jointer with Helical Head (708476)
Great Value
JET JJP-8BT 8″ Jointer/Planer (707400)
In order for you to dig up the best jointer planer combo, you'll need to have a lot of criteria figured out regarding your work. Why should you go for a jointer planer combo? Well, in most workshops, you will find both these devices as they are essential to the completion of any wood piece. 
However, when you have a small workshop or you are a DIYer or a hobbyist still nurturing your love and craftsmanship for/of wood, you will not have the space or the financial capabilities of having both these devices in your workshop/garage.
List Of The Best Jointer Planer Combos:
Our Top Picks:
| | | | | | |
| --- | --- | --- | --- | --- | --- |
| Combo | Weight | Motor | Work Capacity | Cutting Depth | Price |
| Grizzly G0634Z | 750 lbs. | 5 HP | 12 in. | 3-⅛ in. | Check Price |
| JET 708476 Model JJP-12HH | 600 lbs. | 3 HP | 12 in. | 3-¾ in. | Check Price |
| Jet JJP-8BT | 67 lbs. | 3 HP | 8 in. | 4-18/25 in. | Check Price |
| JET JJP-12 | 600 lbs. | 3 HP | 12 in. | ⅛ in. | Check Price |
| RIKON Power Tools 25-210H | 580 lbs. | 3 HP | 12 in. | ⅛ in. | Check Price |
| Jet JJP-10BTOS | 84 lbs. | 1.5 HP | 10 in. | ⅛ in. | Check Price |
| Rikon 25-010 | 160 lbs. | 1.5 HP | 10 in. | ⅛ in. | Check Price |
| Ridgid JP0610 | 213 lbs. | 1 HP | 8 in. | ⅛ in. | Check Price |
The 8 Best Jointer Planer Combo in 2021
1. Grizzly G0634Z Jointer Planer Combo – Best Overall

What Grizzly has done here with this device is that it has tried to address the main problems that face users of jointer planer combos. But, let's run over the basics first. This is one of the most powerful jointer planer combos that you will find in the market with 5HP motor; it can deal with your hardest wood.
This motor produces 5,034 RPM, which translates into 20,136 cuts per minute, which is pretty impressive. It is a 12-inch jointer planer combo with a cutting depth of 3-1/8 inch. So, deducing from these qualities, this device is built to impress.
The switch from planer to jointer and vice versa is simple and straightforward. It has its own dust collection system with an impressive port that boasts a 4-inch diameter. This thing is not going to get clogged.
It's compact and does not take up too much space. Some people might say that the tables are a little bit too small. However, that's the point of a planer jointer combo; to take up as little space as possible.
One more thing that Grizzly has done to overcome the high turnover of blades is installing a 32 carbide spiral cutter head, which is exceptionally sturdy.
Pros & Cons
Pros
Carbide blades
Integrated dust collection system
5 HP motor
Compact
4-inch dust port
Cons
Heavy
Not portable
Expensive
Final Verdict
Although this device is undoubtedly expensive, it gives you an impressive package of power, sturdiness, comfort, and an overall pleasing experience. When dealing with the device, some people might think it's not worth it; some feel that it is the perfect device for their small workshop. It's all about how you see it. Our opinion is that if you are decided on having the combo then, certainly go for this one.
---
2. JET 708476 Model JJP-12HH Jointer Planer Combo – Runner Up

This device is runner up to the Grizzly as it shares a lot of qualities with it including being a 12-inch jointer planer combo and enjoying carbide blades. However, the motor on this device can only give you 3HP, which is not the most impressive, but it's not bad either.
It sports a parallelogram design that supports its tables. The fence has an adjustable angle of 45° to 90°, and the switch from jointer to planner can happen through taking out the dust chute and tilting the jointer table 90°, which is pretty straightforward.
The point of having a helical cutter is that it doubles the lifespan of the plates as when the products start coming out not as smooth as you are used to, all that you have to do is to turn the carbide tip 90° so that you will have a fresh face producing fresh smooth, luxurious product.
Add to that the fact that you can adjust the speed through which the machine takes all the wood; your product should be perfect
Pros & Cons
Pros
Dust chute
Helical carbide cutter head
Parallelogram design
Adjustable speed
Final Verdict
This device also introduces an excellent package to the table. However, it's way too expensive for what it can give you. Hence, maybe if it's tweaked and updated a little bit more, it will be worthier of such a hefty price tag.
---
3. Jet JJP-8BT Jointer Planer Combo – Best Budget and Lightweight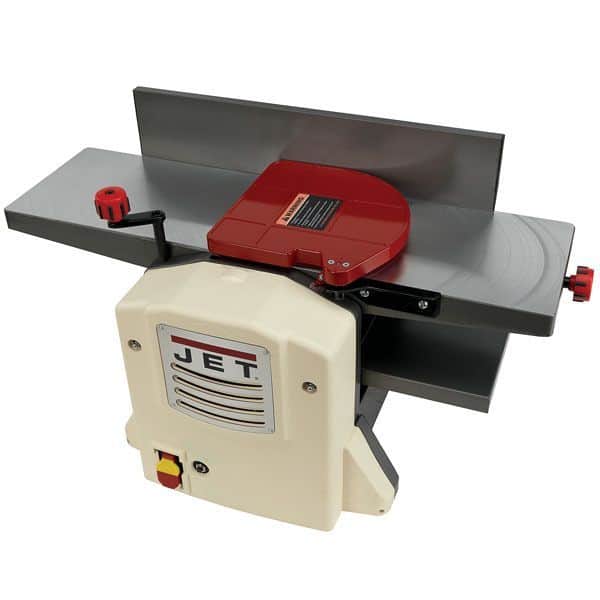 This device is the smallest, lightest, and most affordable jointer planer combo on the list. The thing is although it's tiny in relation to its peers, it offers you a lot of features that are present only with larger-scale jointer planer combos.
First of all, it's an 8-inch jointer planer combo. It weighs 67 pounds and has a motor power of 3HP, which is impressive for the size. It has a benchtop stand, which is beneficial when there's not much floor space to be occupied. It enjoys an RPM of 9000, which is slightly more than the Grizzly so it can give you smooth cuts, especially when the feeding process is taken at a slow pace.
The whole device is designed in an ergonomic way to provide comfort so they designed the knobs in an oversized manner for easy maneuvering. The outfeed table is made of sheet metal while the infield is made out of cast-iron. The difference between the materials of tables helps in balancing the weight of the entire unit.
The fence on this device is made out of cast-iron and machined aluminum for sturdiness. We can also tilt it all the way from 45° to 0°. One common complaint regarding this product is that the assembly process is devious and way too complicated.
Pros & Cons
Pros
Small
compact and light
Affordable
Benchtop stand
Ergonomic design
Final Verdict
For the price, which is the main reason why this product is third on the list, it gives you an impressive package. It houses a lot of features that are mostly exclusive to closed stand jointer planer combos. With its powerful motor, it can take on a lot of woods easily while still giving you a top-notch product in the end.
---
4. JET JJP-12 12-Inch Jointer Planer Combo – Best Safety

This device here is a previous version to our runner-up on this list; the Jet 708476 JJP-12HHH. It enjoys the same parallelogram design, which allows it to be sturdy, compact, and very stable. Such a good design swallows up the vibrations taking away their effect. Another thing contributing to its stability is the weight of this device, which is 600 pounds.
It has a motor of 3HP, which is fan-cooled and enclosed completely. The cutter head consists of 3 steel knives. However, the most significant drawbacks of this device is that they go bad really fast and demand replacement.
Furthermore, when you replace those blades, we would recommend purchasing the same type yet again, rather than look for better quality blades. The fence of this device has been designed to suit the users' comfort as it's placed on the very top and is very sturdy as it's made of extruded aluminum.
This machine boasts an integrated dust collection system, which is always a plus. Moreover, something that we have not seen on this list before is safety measures implanted in the devices themselves, which is precisely what Jet has done with this model.
The power button is magnetized, so if the power goes out and comes back again, you won't find a device turning on by itself.
One last thing is that this 12-inch jointer planer combo has a smooth switch from jointer to planer. Just like the Jet 708476 JJP-12HH, all you need to do is take out the dust collection chute and tilt the fence 90° upwards.
Pros & Cons
Pros
Dust collection system
Sturdy
large fence
Swift switch
Compact parallelogram design
Magnetized on-off switch
Final Verdict
As mentioned before, the updated version of this model is present on this list and very common in the market as it offers an updated cutter head. However, this device has focused on safety, which is paramount whenever you're using any power tools, and that's why it still holds its position proudly amongst the very best.
---
5. RIKON Power Tools 25-210H Jointer Planer Combo – Best Wood Infeed and Outfeed

This device is hands-down one of the best in the market today. It weighs 580 pounds as it's made entirely of cast-iron with an aluminum fence. It enjoys a motor power of 3HP that allows it 3400 RPM, which translates into 14,400 cuts per minute.
It's a 12-inch jointer planer combo with an infeed rate of 23 ft./min, which places it as one of the fastest models in the market. It will save you a lot of valuable time and allow you to increase your productivity.
As for the outfeed, it's designed with 3 rubber-coated rollers that keep the material safe and unscratched until you fetch it. The cutter-head on this device is a helical one with four rows of carbide inserts. This, of course, enhances your product.
Moreover, it has an emergency stop button, which is bright red just in case. One last thing is that its stand can switch between benchtop and open when needed, which means that you can put it in your workshop in any shape or form.
All the complaints that come regarding this device and why it's in fifth place despite its merits are related to quality control. A lot of people have reported that the controls are flimsy, touchy and that they do not stay in place, this includes the fence which migrates even after you have locked it down.
Pros & Cons
Pros
Sturdy built
Emergency stop button
Three rubber-coated rollers on the outfeed table
High infeed rate
Cons
Quality control
Flimsy fence
Final Verdict
If it weren't for the obvious problems caused by quality control and the fact that people think that no one looks at these devices as they are leaving the factory, it would have taken a much higher place on this list. However, it is still a premium device that gives you a lot of options.
---
6. Jet JJP-10BTOS 10-Inch Jointer Planer Combo – Value Pack

This device here is another model from Jet. Although the other models which we have discussed are far superior to this one, it still does offer some new options. First, the basics; it weighs 84 pounds which is relatively light in relation to the other weights that we have seen on this list. It is a 10-inch jointer planer, and this is the first one on this list that sports this rare size of 10 inches. However, don't panic; it's not hard to find replacements for it.
It has a motor of 1.5 HP, which can deliver up to 18,000 cuts per minute. This device has been designed in an ergonomic way; it has extra-large knobs that allow for maximum control and precision over the machine, a telescoping blade guard, and a larger than usual dust port. Also, an unmissable advantage is the extra head inside this cutter that helps with finishing off your product with a smoother slicker aesthetic.
Furthermore, it has a wheel that allows you to control the speed of the infeed of wood into the device. This advantage allows for top-notch products every time. One last thing is that its stand is designed so that it can work as a benchtop jointer planer combo, and if needed, it can unfold into an open stand so that it will be placed on the floor. Such an option makes it one very convenient device.
The reason why this product isn't higher on our list is the tedious and complicated assembly process, plus the fact that the results are not always satisfying. Sometimes the tables, infeed, and outfeed are misaligned.
Pros & Cons
Pros
Ergonomic design
Telescopic blade guard
Steel knives
Adjustable infeed
Affordable
Final Verdict
This device brings a lot to the table, but when with such defects that you can call factory or quality control defects, it's a considerable risk of investing your money in such a machine. However, for the price, it is very persuasive, and you can not forget about the number of people who received their devices, which were perfectly fine.
---
7. Rikon 25-010 10-Inch Jointer Planer Combo – Best Amateur

This model is a slightly different version from the previous Rikon. One thing we know for sure is that it's a lot lighter at 160 pounds. It has a motor of 1.5 HP which gives us 4800 RPM, this can easily translate into 14,400 cuts per minute.
This device is perfect for newbies and hobbyists; it's not too much, and it's not too little, it's just right. However, it does not only come with that one feature. It also brings excellent stability that comes from several elements.
The first one being that the table is made entirely of aluminum with the bed acting as the base. The small, completely metal feet, along with the J-belt, absorbs vibrations and makes the device almost completely stable. This device is also a 10-inch jointer planer combo with a depth of cutting that can be adjusted all the way up to ⅛ inch.
This model from Rikon is lightweight and portable due to two factors that enhance the latter ability. The fact that the table can be removed using a simple lever and so can the fence through turning the spring lever. Although it has a cutter-head blade system, it consists of 3HSS knives that perform excellently. One last thing is that it has a 4-inch dust port.
Pros & Cons
Pros
Small and compact
Portable
Swift switch from jointer to planet
4-inch dust port
Adjustable height
Stable 3HSS knives
J belt
Cons
Flimsy fence
Poorly written manual
Not so suitable for large-scale projects
Final Verdict
As we have mentioned, this specific product is perfect for amateurs and people who are starting their journey with carpentry and woodwork. It's affordable, lightweight, and portable while still managing to offer a neat package of options. So, if this is your first time dealing with a jointer planer combo, then we strongly suggest this model.
---
8. Ridgid JP0610 Jointer Planer Combo – Best Fence
Our last but certainly not least product. This device weighs 213 pounds, and it's an 8-inch jointer planer combo with a maximum cutting depth of ⅛ inch. It is undoubtedly one of the more affordable jointer planer combos. The main reason why it's on this list is its adjustable fence, which can be locked at 45° 90° and 135°.
This device is compact and small, allowing it to fit anywhere in your garage. However, it was not made flimsily. It is entirely manufactured out of cast-iron with a sturdy cabinet and a fully enclosed fan cooled motor for a longer lifespan. This motor gives 5000 RPM, which can translate into 15,000 cuts per minute. That is slightly more than the previous machine.
It has an integrated dust collection system with a dust port. The thing about this machine is that it has excellent quality control. There have not been any reports of defects concerning the alignment of the tables, the paint job, or even a flimsy fence.
Such deficits seem to be common amongst jointer planer combos, yet; this device has escaped. Also, assembly is not at all complicated.
[proscons pros="Sturdy iron cast build,Integrated,Dust collection system,Advanced fence,Enclosed fan cooled motor" cons="1 HP motor"]
Final Verdict
There's nothing extraordinary about this specific machine. The fence is pretty impressive, but other than that, nothing really catches the eye. But, the thing is it is perfect for what it was designed to do without costing you an arm and a leg in the process. Consequently, we can say that it's the best option for someone who does not need to use a jointer planer combo frequently.
---
What Are the Benefits of a Jointer Planer Combo
As suggested by the name of this device, it can do the job of both a planer and a jointer. Plus, as mentioned previously in the article, the point is to save as much space as possible while still having those key phases of any lumber peace.
One advantage that might not be noticed by everyone is that the product of this combination is a much broader planner than what's available on the market when purchasing an individual planner, as the cutter head serves both the jointer and the planer at the same time.
Also, another extremely attractive point is the amount of money that you'll be saving as each one of those devices individually sports a pretty hefty price tag. If you go for the combo, you'll be getting both of them for the price of one.
Everything has its own advantages and disadvantages. The commonly known downsides of a jointer planer combo include the high turnover of blades as they are being used for two jobs, not just one, and the fact that switching from one mode of action to the other can be quite complex and tricky. It's a learning curve and certainly not an easy one.
Planer Portion
A planner is mostly used on the surface of the wood to create even thickness. Hence, if you have parts of lumber and you're planning on placing them parallel to each other, you'll indeed need them all to be even, and that's where the planner comes into play.
Jointer Portion
The jointer's job is mostly concerned with the edges; it creates an aligned piece of wood out of a warped/twisted one. If your aim is to create an angle, then you will need the edges to be perfectly straightened out so that there are no gaps in between the wood. That's where the jointer comes into play.
How to Pick the Right Jointer Planer Combo
Just like any power tool, this device is a considerable investment; it's not something that you're going to replace in a month or two, it's supposed to last for a lifetime. Hence, you have to do your research thoroughly to know what kind of jointer planer combo will suit your work needs and requirements. Right now, we will give you some essential criteria that you have to go over when purchasing a jointer planer combo.
1. Power
In general, regarding power, you should never go for any device that's below 1HP as that is your minimum. However, we would advise you to always go above 1.5 HP, especially if you're going to be dealing with real hardwood or exotic woods, then you will need to go higher. 3 HP is perfect, we would say.
2. Cutting Depth
The cutting depth is essential for this device. It means how much will be removed from your piece per pass. Hence, we would advise you to always go for a moderate one that will allow you to fix any mistakes. The cutting depth is one of the options that enjoy most variation regarding this combo. So, we are sure that you won't return disappointed due to lack of cutting depth options.
3. Table Dimensions
The length and width of the infeed and outfeed tables are detrimental in the process of deciding the size of the piece that you are going to be working with. Therefore, always try to go for the largest table available to give yourself the widest space possible. Also, always make sure that the table is sturdy and can hook up to extension tables if needed without trouble.
4. Build
As mentioned before, these devices are supposedly built to last. So, one of the main things that you need to check when purchasing one is the structure and the foundation of this device. The fences, tables, switches, knobs, and leavers. Check everything as thoroughly as possible, and try to go with the device that has the highest percentage of iron cast and strong metals in its build.
Of course, in order for you to do that, you'll be sacrificing portability and lightweight. However, we are positive that you would prefer your device to have an extended life span over being able to carry around.
5. Stand
A stand is the supporting system that comes with your device; it is vital as you need to know that the machine that's going to be working with such dense woods is well supported and will not fall over due to vibrations. Consequently, we have three categories of stands; each one of them has its own merits and deficits.
Open Stand
This is the in-between type; it's not the best, and it's not the worst. It may have a shelf on which you can lay the other tools that you use. It can take a lot of pressure; however, our advice is not to overdo it. As for price, it acts as a middle ground; it's not the cheapest and it's not the most expensive.
Benchtop
This is the flimsiest type, it might not even come with some models. You just get the device and put it on your benchtop, which is beating the point as you want to free more space on your benchtop.
That's why you decided to go for a combo rather than purchase the two devices separately. In any case, we would not advise you to apply any sort of pressure on this stand
Closed Stand
This one is the sturdiest as it's made out of sheets of aluminum and other metals. It can take significant pressure and might sometimes have storage space in it. However, most of the time, it is inaccessible.
6. Dust Collection System
Surely you know that cleaning up after working with power tools is the most terrible part of your project. It's always a nightmare to clean the sea of sawdust that is produced whenever you work on the lumber piece.
That's why investing in a quality dust collection system is a must, believe me, you will thank us. Always go for the best dust collection system and the biggest dust port that you can find, which is mostly 4 inches as it will reduce the chances of your device clogging up with wood chunks slim to none.
Frequently Asked Questions:
In the next few paragraphs, we will try to sum up the most common questions regarding jointer planer combos. Moreover, we will answer them in the simplest way possible in order to present you with the key information in a simple, straightforward manner.
Are Jointer Planer Combos any Good?
As we have explained throughout the article, yes, they most definitely are beneficial. However, if you do have the required space and the financial capability then, of course, go for an individual jointer and an individual planer
What Size Jointer Should I Buy?
This depends on the space that you have in your workshop and the nature of your work. If you are always working with large wood chunks or producing furniture on a large scale, then you should go for a 12 inch.
Nevertheless, if you're more interested in smaller projects, then you can definitely go for an 8-inch or a 10-inch. The key here is to know very well the nature of your work and its requirements, that is the only thing that will help you make the right choice.
Is a Planer or Jointer More Important?
None of them is more important than the other; they both serve completely different purposes. Again you have to know the nature of your work, and according to that, one of them might be higher on your priority list than the other. Still, investing in both of them or investing in a combo won't come back to bite you.
Final Thoughts
To sum up, throughout this article, we have explained the merits and deficits of our eight best jointer planer combos and why each one of them has earned its place on our list. Furthermore, we have shown you the ropes of scavenging for just the right jointer planer combo.
Our first choice of jointer planer, the combo, the Grizzly G06343, sits on the top of our list because it has combined an impressive package of qualifications that will always come in pretty handy for a reasonable price.
If you need a jointer planer combo with a dust chute, a helical carbide cutter head, and a parallelogram design, go for JET 708476 Model JJP-12HH.
Related : Best Benchtop Jointers