We know how it feels to get frustrated by the use of dull blades and changing them often. However, it's a waste of money, time, and energy to bring a new set of screwdrivers to every project.
DIYers and Workshop owners must invest in the best variable speed bench grinder to boost the performance of their handy tools.
Either you intend to sharpen tools, the kitchen knife set, or the edges of a wood piece. Variable speed grinders are incredible to cut, shape, smooth, buff, and various polish materials.
In addition to this, the variable speed control allows you to use the bench grinder for removing rust or paint, shaping objects, and more.
Let's look at the top 10 variable speed bench grinders available in the market to be at your doorstep.
The variable speed bench grinder comparison table
Top 10 Best Variable Speed Bench Grinder in 2021
1. WEN 4280 8 Inch Variable Speed Bench Grinder with Work Light
Stop spending money to replace the dull rusty tools with slow speed! The WEN 4280 5 amp bench grinder is the perfect companion for any workshop. It will serve you to sharpen the blades, cleaning the rusty objects, and make the rough edges smooth.
The Wen 4280 Bench grinder gives life to the flat screwdrivers, scissors, and blades. The machine is sturdy and reliable, even if it comes to complex tasks.
The package includes two grinder wheels – a 36-grit wheel for the fast removal of material and 80-grit wheel size for grinding and material removal.
You will have full control over the speed of the wheel as its speed varies between 2000 to 3,400 rpm by turning the knob. The motor is quiet and starts quickly.
If you want to sharpen the knives and screwdrivers, then run the bench grinder at slow speed. On the other hand, if you want to remove rust from the tools, then use the bench grinder at high speed.
The wheel guard removal makes the wheel changes quite easy and simple. The work light illuminates your grinding and extracts precise results.
In short, WEN 4280 will retain all your tools to their original shape in an accurate manner.
Pros:
Easy to assemble
Quiet environment
Affordable price
Cons:
Lights works when the wheel rotates
Read More: Best Bench Grinder
---
2. VEVOR Blade Grinder 1/2 HP Lawn Mower Blade Grinder
VEVOR is one of the renowned brands for power tools including Saw blade sharpener, a Magnetic sweeper, and a bench grinder. The tagline of this brand is really amazing- Tough Equipment & tool, Payless.
Everyone wants to pay less and purchase highly durable equipment. In that case, choose VEVOR Blade Grinder 1/2 HP Lawn Mower Blade Grinder. so it's your best budget
The highlight of the VEVOR Blade Grinder is its pure copper motor that produces fast wheel rotation, good heat dissipation, and low noise as compared to the competitor's models. In addition to this, its grinding plate has a large contact area to the blade for a smooth and sharp edge formation.
You can easily grind mower blades, tools, and other accessories. An 8-inch variable speed bench grinding plate helps you to sharpen the blades quickly.
Moreover, This model allows the users to adjust the length and height of the grinding wheel. Simply rotate the adjustable knob and handle for this purpose.
Less noise, more stable – The entire grinder body is made up of stainless steel along with the cast iron base and rubber feet to increase the machine's stability.
If you're tool accessories getting dull then sharpen them with the use of an 8-inch bench grinder.
Pros:
Stable base
Pure copper motor
Less noise
Cons:
---
3. BUCKTOOL 8 Inch Variable Speed Bench Grinder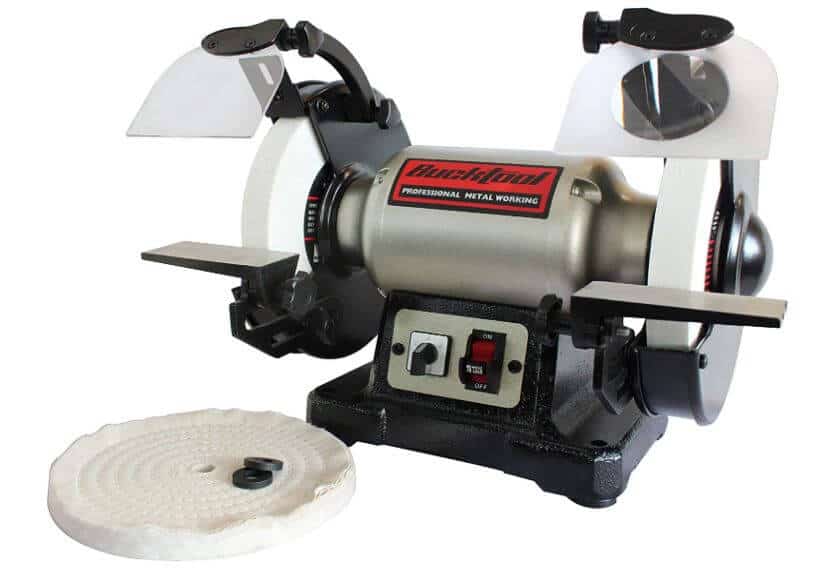 It's high time to redefine the efficiency of your tools by the use of a BUCKTOOL speed bench grinder. It is a trustworthy brand for excellent services and high-performance power tools, beyond user expectations.
A perfect power machine for the carvers, turners, carpenters, workshop, and other craft people that involves hand tools in their daily routine tasks. This speed bench grinder has a simple process to sharpen the dull blades, screwdrivers, scissors, and others.
It is a compact and powerful variable speed bench grinder along with a 3.1 amp motor for smooth performance. The machine is reliable, it performs even the difficult tasks in a go!
The bench grinder produces powerful torque from low to high-speed tasks. The speed of the wheel is available between 1725 to 3450 rotations per minute. All you need is o rotate the knob from low to high.
Like the VEVOR Blade Grinder 1/2 HP Lawn Mower Blade Grinder, it has anti-vibration cast iron rubber feet to deliver accurate results. But, unfortunately, the vibrations lead to mistakes and poor performance.
Moreover, you can adjust the work rest position for accurate angles. Some other advanced features are position angle adjustable eye shields, spark reflector, and buffing wheel that delivers accurate results and multipurpose polishing.
Pros:
Commercial grade bench grinder
Powerful motor tool
Accurate posting and adjustable angle
Cons:
Difficult to remove the plate
---
4. Ironton 8inch Variable Speed Bench Grinder
Ironton has gained popularity for its durable power tools. As the brand name itself is promising in this regard.
The variable speed bench grinder is powered with ¾ HP, 5 AMP motor. The motor runs smoothly and quietly throughout the process of grinding, paint removal, deburring, and sharpening.
You can easily adjust the variable speed dial using the turning knob. Thus, match the speed of the grinding wheel to the nature of the subject. The speed varies from 2,000 to 3,400 rpm. In addition to this, the adjustable eye shields ensure a safe operation.
The attraction doesn't end here, the pack includes the 8-inch 60 grit aluminum oxide wheel size, wheel dresser, light bulb, and wire wheel to enhance the machine functionality.
The work light helps you to illuminate the working area for precise sharpening or rust removal.
In short, it is a multipurpose and versatile speed bench grinder that offers maximum performance for sharpening the blades, screwdrivers, and more. The base is stable, made up of cast iron material. It will not produce any sort of vibrations throughout the process. Recommended for automotive repairs.
Pros:
Flexible work light
Multiple grinding wheels
Adjustable eye shield
Cons:
Avoid heavy-duty grinding
---
5. Happybuy 2Hp Belt Grinder Variable Speed
The Happy Buy belt grinder is equipped with a top-notch quality abrasive belt with dual grinding wheels. Save your effort and time by utilizing its fast speed and variable speed control.
The pack comes with three grinding wheels for different projects and three extra belts to use in case of replacement. This model is specially designed for commercial-grade projects like automotive workshops, carpenters, and others.
The entire structure of the HappyBuy 2HP Belt Grinder Variable Speed is made up of all steel, therefore it takes years to last. The base is smooth, steel-made, and helps you to run the belt grinder smoothly.
Furthermore, the power tool works exceptionally using a high-speed copper motor. The machine runs smoothly and has stable tracking. The average rotation speed of this variable speed bench grinder is 2800 rotations per minute.
The overall operation of this grind is simple and quick. The user can easily assemble and reassemble the grinding wheels. It has a frequency converter to control the variable speed.
It works great with all materials including wood, acrylic, and others. In addition to this, it can be used for building material factories, part factories, and more. It can perform tool polishing as well.
Pros:
Commercial grade bench grinder
Easy to operate
Perfect for a wide range of materials
Cons:
Assembly of the grinder wheel is required
You may also like: Best Angle Grinder
---
6. Combination Belt and Bench Grinder,120V
Dayton parents workhorse to sharpen the handy tools in a go. This model has a belt incorporating a bench grinder. Equipped with a powerful motor of ¼ HP. The maximum speed of the grinding machine is 3600. The table is made up of steel therefore, it a highly durable bench grinder.
Just like other competitors' models, it has an eye shield to protect the user's eyes from the abrasive flying of metal particles. In addition to this, it has spark arrestors to catch the sparks. It prevents sudden slip or mishandling.
The simple thumb knob adjustment lets you track the speed of the belt. You can easily adjust the tool rests as per your requirement. The flexible work light illuminates the workplace for accurate grinding and sharpening of tools.
The pack includes everything you need: a grinding wheel, grinding wheel dresser, work light, tool rest, spark deflector, grit coated abrasive belt, and workpiece cooling water tray.
This bench grinder has an on/off switch mounted on the front and a built-in dust collection port. So, it has a great tendency to maintain its performance for years.
Pros:
Sturdy material
Compact and sleek belt design
Spark Arrestors
Cons:
---
7. Delta Power Tools 23-197 8-Inch Variable Speed Bench Grinder
Delta power tools have a great market reputation. The tagline of this model is the "measure of PRECISION". Reliability, Precision, and Accuracy is the first most important thing when it comes to delta power tools.
The delta has launched great woodworking tools. Let's have a look at the best-selling variable speed bench grinder.
The Delta power tools 23-197 8-Inch Variable Speed Bench Grinder offers great versatility and convenience in your buffing, polishing, sharpening, and grinding. You can easily control the variable speed starts from 2,000 to 3,400 rpm.
You will surely adore this model for its 5-Amp induction-type motor that delivers powerful and smooth performance. The model incorporates 36 and 60 Grit wheels size for grinding and sharpening.
For accuracy, the variable speed bench grinder has a drill bit rest to get the correct angle at all times. It allows you to compensate for wheel wear and achieve the angles. It has a water tray to keep the motor cool throughout the process of grinding. The customer's feedback about the performance and durability of this power tool is positive.
Pros:
Two different grit wheels
Cast iron base
Full-size safety shields
Cons:
---
8. WEN 4276 Flexible Work 6-Inch Bench Grinder
Let us introduce to you a very light variable speed bench grinder that is designed by WEN. The main highlighted feature of this bench grinder is that it works at maximum precision.
A perfect tool and a mechanical companion for any workshop. It has 2 wheels each of 6-3/4 inches. One wheel is of 60 grit used for general grinding while the second wheel is of 36 grit used for quick material removal.
Due to the robust base, the shaking and wobbling of the grinder are reduced for a stable and safe mounting. It speeds up to 3450 RPM because of the heavy-duty 2.1 amp motor. Although the motor is very powerful yet it produces very low noise. It comes with a quick and easy replacement of wheels.
In addition, it comes with 40 watts of flexible light that illuminates the workplace and helps in the accurate positioning and sharpening of the tool.
Moreover, it comes with a perfect eye guard for visual protection of eyes from sparks and other debris for a safe and smooth operation.
Pros:
Flexible 40 Watts light.
Powerful 2.1 Amp motor.
Sturdy base.
Cons:
Low-quality wheel material.
---
9. Dewalt Bench Grinder 8-Inch (DW-758)
Dewalt is a very renowned brand for the manufacturing of different industrial and mechanical tools. The bench grinder is one of its most sold bench grinders. The main feature of this grinder is that it is equipped with a powerful ¾ HP motor that runs at a speed of 3600 RPM.
Moreover, motor housing of 8 inches and solid cast iron base make this bench grinder durable, stable with prolonged life. With the help of precise aluminum tool rest, the user can accurately position the work.
In addition, for smooth operation, the company equipped this bench grinder with rear exhaust ports located in the wheel guards. The distance between the two wheels is 12-1/2 inches. This large distance is suitable for working on longer and larger grinding applications.
According to many customers, this bench grinder is suitable for different operations like deburring, tool sharpening, dust removal, and cleaning objects. The pack includes a bench grinder, 36 and 60 grit wheel size, spark deflection, eye shields, and tool rests.
The company also provides a complete instructional book for the easy and safe operation of the bench grinder. It comes with a 3 years limited warranty for any defect due to workmanship or material.
Pros:
3600 RPM speed.
Premium quality cast iron base.
Durable and stable base.
Cons:
---
10. Dewalt Bench Grinder 6-Inch (DW-756)
Another very popular model by Dewalt is a 6 inches bench grinder. The most important feature of this model is that it is powered with a 5/8 Horsepower motor that enables it to a speed of 3450 RPM. It is a quick material removal device.
Moreover, due to the robust cast iron base, this device is very stable and durable. According to many customers, this model of the Dewalt brand is ideal for large grinding tasks as the distance between the 2 wheels is 12-1/2 inches.
Furthermore, it is a perfect grinder for sharpening tools, deburring, and cleaning objects. Its adjustable aluminum tool rest lets the user complete the task with accuracy because of its precise work position.
Although the length of the grinder is 15 inches, yet it weighs only 28 pounds. The diameter of the spindle is ½ inches. The complete pack of this model includes tool rests, an eye shield, 36 and 60 grit wheels, and spark deflectors.
The warranty period is very simple. The company offers 3 years limited warranty, 1-year free service, and 90 days money-back guarantee if there is no repairable fault.
Pros:
Rugged cast iron base.
Powerful 5/8 HP motor.
Equipped with spark deflectors.
Cons:
Difficult to adjust the guards.
---
Factors to consider while Buying the Best variable speed bench grinder – An ultimate Buying Guide
Let us elaborate on some of the important factors that you should consider before buying a variable speed bench grinder so that you get the right product at an affordable price.
Horsepower of the Speed Bench Grinder
Horsepower is a very important factor in the case of bench grinders. It has a direct relation to the task done by the bench grinder. The more horsepower, the tougher tasks will be performed. Moreover, according to many customer's feedback, grinders with higher horsepower are more durable.
Although in the market, some low horsepower grinders are also available, the most important thing is to check the task to understand them before finalizing a grinder.
Never go for powerful bench grinders if you do not require them. Along with the horsepower, also consider the revolutions per minute (RPM) and motor speed. 3,400 rpm is considered a good intermediate-level speed. More than 3,400 rpm is also available in many of the above-mentioned models.
Types of Grinding Wheel:
The traction of the bench grinder depends on the wheels. Professionals and experienced users are familiar with this that different projects require different types of grinding wheels.
Before finalizing the best bench grinder, make sure that the wheels are compatible with the task you want to complete. If the wheels are not compatible, then you may find it difficult and feel the project is too tough. Experts say that a bench grinder without the correct wheels is of no use.
In addition, always check for common accessories like a wire brush, fine grit, coarse, and buffing wheels.
Safety Features:
A tool for any task is useless if it does not have important safety features that are important for the safety of every worker. In the case of the variable speed grinders, it must have a spark guard for protection against the sparks produced as the grinder touches metal. A guard protector covers the grinders, thus protecting your hands directly from the spinning grinder. Eye shields are a must too
Variable speed control also offers a safe option to control the tool according to the task. So enjoy the best variable speed of your power tools.
If you have enough budget, then select bench grinders with maximum safety features and some additional safety attachments.
We have also presented the best budget variable speed bench grinder for sharpening tools.
Anti-vibration Feature:
Many customers wonder what the purpose of anti-vibration features is and why it is necessary. The main objective of the anti-vibration feature is to keep your hands stable to ensure that the grinder is stable and smooth.
In addition, it also lets you use the tool comfortably and easily for hours without any feeling of tiredness. For maximum stability, solid cast iron is used in the design of high-quality grinders that minimize vibrations.
Warranty:
According to many customers, the quality of the variable speed bench grinders is mostly judged by their warranty period. The reason is if the company is confident of the quality of the tool, it will surely offer a warranty for a longer period like for 5 years. In addition to the warranty period, also check the warranty areas like important parts (motors and blades) are included in the warranty or not.
Additional Accessories a best variable speed bench grinder offers:
The last factor to consider is the presence of some additional accessories like an LED light or flexible work light, adjustable tool rests, Rubber Feet, Water tray, and Knife area. In all these additional features, rubber feet are most important to keep you safe in case of an electric shock. Some models of our best bench grinders are packed with eye shields too.
Frequently Asked Questions about Best Variable Speed Bench Grinder
What is the use of a bench grinder? 
Although it is not a compulsory tool for every workshop, in fact, it is a money-saving power tool. Instead of discarding the dull blades, screwdriver, and other handy tools, sharpen their tips with the use of the variable speed bench grinder. 
In addition to this, you can use a variable speed bench grinder to remove paint, rust, and other strains from tools. Polish and buff the metals easily. Yet, you can make the edges of the wood and metal. It works on jewelry, wood, and model building. 
Why are there models with dual wheels? 
Every bench has two wheels which increase the tool versatility. Usually, the bench grinder has two wheels, one with a light to a medium grinding wheel. Whereas, another one was a medium to hard grit wheel for hard surfaces. However, you can change these wheels according to your project. 
Avail the specialized wheels for cleaning or sharpening the tool. There is a wire wheel, buffing wheel, cutting wheels, and more to choose from according to the subject. 
Can I use the bench grinder on wood? 
Yes, a right bench wheel can be used on wood. It will help you to shine, polish, cut, and buff the variety of woods. However, avoid the use of softwood on the speed bench grinder as they are perfect for hard materials.
Conclusion:
With proper maintenance and practices, you will see through years of sharpening, cleaning, and deburring your tools. The best variable speed bench grinder will value your money by delivering ultimate results on different materials, including metal, wood, and more.
The editor choice is WEN 4280 5 amp Variable Speed Bench Grinder with Work Light due to its 36-grit and 80-grit wheel that performs exceptionally on a wide range of materials. It can sharpen the tools as well as remove the hard strains of paint and rust from the tools. Grab your variable speed grinder for sharpening tools of your workshop or DIY project to sharpen the dull blades and screwdrivers. Give it a go!