Best Overall
DEWALT Benchtop Planer, Single Speed, 15-Amp, 12-1/2-Inch (DW734)
Premium Choice
DEWALT Thickness Planer, Two Speed, 13-Inch (DW735)
Great Value
DEWALT Thickness Planer, Two Speed, 13-Inch (DW735X)
In this article, you will learn about wood planers DW734, DW735, and DW735X. Including features, pros, cons, and which is the best buying decision.
For contractors or carpenters, choosing the right wood planer ensures smooth, even cuts, and overall a great finish. You need a wood planer that suits your requirements. While looking for the best planer, you will come across the brand Dewalt a lot.
They have three planers, the DW734, DW735, and DW735X. And those models are considered their benchtop planers. The reason why they're so popular among DIYers is because of their 10,000 RPM blade speed that gives a perfect finish!
Dewalt DW734 vs. DW735 vs. DW735X Planer: Comparison Table
| | | | | | | | |
| --- | --- | --- | --- | --- | --- | --- | --- |
| Planer | Width capacity | Carriage Lock | Speed | Cuts per inch | Weight | Extras | Price |
| Dewalt DW734 | 12.5″ | Manual | 1 | 96 | 80 lbs. | Dust hood | Check Price |
| Dewalt DW735 | 13″ | Auto | 2 | 96 or 179 | 92 lbs. | Dust adapter | Check Price |
| Dewalt DW735X | 13″ | Auto | 2 | 96 or 179 | 92 lbs. | Dust adapter, Spare knives, and Feed tables | Check Price |
Dewalt DW734 vs DW735 vs DW735X Planer – Full Comparison
DeWalt DW734
This machine's overall performance is great. It is very strong and also provides excellent features. The three-blade system gives exceptional results, such as a perfectly smooth surface. This planer mostly gives the desired results.
It is also suitable to be used at home as it's quite easy to use. Also, It's perfectly suitable to be used in a woodworking shop. Whether you are a professional carpenter or a DIY enthusiast, you will definitely love the DeWalt DW734
DW734 is power-packed with a raw performance of over 20,000 RPM and 15Amp. Not only does it perform larger and deeper cuts in hardwood, but it can also rotate its three-knife cutter at 10,000 RPM, which equals 96 cuts per square inch and gives the best finishes possible by any planer.
The precision of this planer is impeccable. In addition, it comes with an extra length for the infeed and outfeed tables, which gives 33.5 inches of base support. And for the cherry on top, the reversible knife edges on the cutter blade also enhance efficiency.
Read also: Dewalt DWS779 vs. DWS780
DeWalt DW735
DW735 is bigger than the DW734. Also, DW735 comes with unique features that make it better equipped than the DW734. It has an automatic carriage lock to control its movement during operation. Plus, it is very strong and has a cast aluminum base.
What makes this planer different than the DW734 planer is the upgrade in the dual-speed gearbox. It still provides the 10,000 RMP and the 96 cuts per inch with a new option of 197 cuts per inch.
If you choose to buy the DW735, you will still get a 6-inch thickness capacity with an extra half-inch of width. Instead of the DW734's 12.5 inches, it goes up to 13 inches. The blades of the DW735 are 13 inches long, which is half an inch longer than the DW734 blades.
Even though all of these upgrades are incredible, still, the weight of the DW735 is twelve pounds heavier than the DW734. DW735 weighs 92 pounds.
DeWalt DW735X
The first thing to know about the DeWalt DW735X is that it's only an upgrade of the DW735. But what makes those two different? Mainly, not many noticeable differences. However, the main difference between those two is the accessories that each planer comes with.
The DW735 retails with the planer unit. But on the other hand, DW735X retails with the infeed and outfeed tables, comes with an extra set of knives in case one of the knives that are already in place got dull or knicked.
DW735X is a monster when it comes to power. It boasts a 15 Amps motor that rotates at a 20,000 RPM speed. It also spins the cutter head at a speed of 10,000 RPM. This helps the planer to plane any type of wood without straining the motor.

The great thing about this planer is that it's made to produce enough power to easily cut through wood without damaging the wood. It does not cause any snipes or tear-out. The cutter head boasts three knives -all with a very good lifespan- that are easily replaceable with the extra set if needed.
Pros and Cons of Each Planer:
1. DeWalt DW734 Single Speed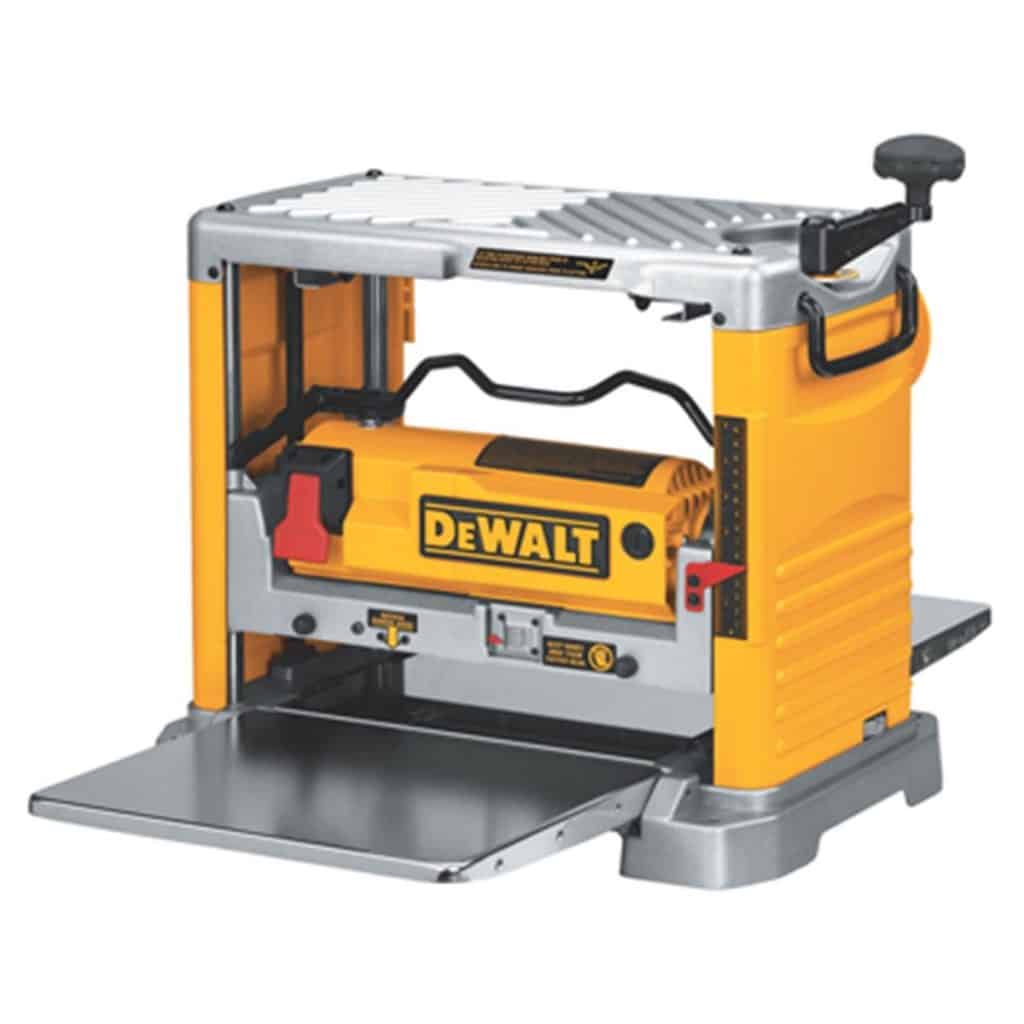 Pros
Manual lockdown to prevent snipe
Blades and brushes easily accessed and replaced
Easily adjusted and set for any kind of timber
Large outfeed and infeed extensions
Fan and a dust hood
Cost-efficient
Cons
Doesn't give the best results while working on hardest woods such as oak
Not suitable for heavy-duty production
---

2. DeWalt DW735 Two Speed
Pros
Multiple speeds
Delivers both 96 and 179 cute per inch according to the setting
Reduces snipe with a four-column carriage lock
Suitable for wide wood up to 13 inches
Strong auto-lock mechanism
Dual fan
Cons
Expensive
The dust hose adapter prevents the outfeed lock
Not a perfect chaff collection at the infeed
---

3. DeWalt735X Two speed
Pros
The best option for professionals
Extra set of cutter head knives
Easily cuts wide material
Replacement blades
Multiple speeds
Automatic lockdown
Strong stable base
Cons
Chaff sometimes sticks at the infeed
Very heavy (92lbs)
Very loud
Expensive
---

How to Pick a Planer
DeWalt products can never be a bad choice. However, you need to consider a few things before you finalize your buying decision.
1. The Motor
How powerful your planer's motor is dictates the thickness you can cut through in different materials. The harder the material you want to cut is, the higher the RPM (rotations per minute) in the motor speed and motor power you should look for.
2. Depth of Cut
If you want to have the most control over how far you cut with each pass, you should go for a thickness planer. But if you want to remove a lot of material in a single pass, you should skip on thickness ones as they're only capable of removing fractions of an inch per pass.
Hand planers, on the other hand, allow you to control how deep you can cut per stroke despite the physical limitations you'll find according to the tool's parts.
If you're working with especially soft or hardwoods, you'd want to work with a smaller cutting depth per pass as too much depth may result in tearout. In other words, your piece may get splintered or ruined.
3. Snipe
With a thickness planer, you'll get a pair of rollers before and after the spinning blades that work on reducing the chance of snipe.
Snipe occurs when the board you're passing through the planer is pulled into the blade before it hits the second roller. As a result, more material is removed from the front compared to the rest, which may ruin the piece.
Some models come with a table that you can adjust up or down to reduce the effects of snipe. On the other hand, you can reduce the size of your cuts as you get closer to the desired thickness. After all, bigger cuts have more chances for snipe than smaller ones.
4. Dust Collection
Dust collection can make or break the operation of your tool. When you're planing wood, a lot of dust will be produced, which may dirty everything in your shop and reduce visibility.
However, not all wood planers come with this feature. Furthermore, you should make sure the planer you buy has the dust port that corresponds to the dust collection system you own, if you already do own one.
5. Construction
A good planer must have solid construction to endure the kind of work you put it through and withstand the continuous operation. Moreover, it should be able to operate without sacrificing quality with high levels of vibration and shaking.
In essence, the best wood planers have a heavy-duty metal construction, like cast iron.
Final Thoughts
Those three DeWalt planers are all great. However, your requirements will determine which is best for you. The DW734 is more cost-efficient and lighter in weight than the DW735 and DW735X. This would be a better option for one-day jobs or light-duty work.
DW735 and DW735X are almost the same. But, the DW735X comes with extra features. Both are quite expensive. But again, the extra features on those two make all the difference. This would be a better option for a professional who needs a long-lasting machine for heavy-duty work.