Miter saws are one of the best tools that can be used for cutting large blocks of wood as well as other metals like aluminum and brass. The miter saws are generally used for cuts like crosscuts, angled cuts, and also compound cuts. Purchasing the best miter saw can be challenging, and especially, if you want to purchase a miter saw that works as good as the DWS779.
Before we look into miter saws that are similar to DWS779, let's know why DWS779 Miter is considered as the best model?
Why is DWS779 the best?
The DWS779 model is one of the most compacts and high-quality Miter saw that you could get in the market. Although different models of miter saw are available in the market, it has some unique features and functionality that make it one of the best choices among buyers. Once you have purchased this model of Dewalt miter saw, you don't have to worry about the build quality of your woodwork or other metal cutting work. This model works as exactly as it is advertised. It doesn't make any false claims and gives you the best value for money.
The DWS779 model of miter saw can be suitable for professionals as well as hobbyists. DIY lovers like the DWS779 model of the DEWALT Miter saw as it is very easy to use. On the other hand, the professionals love this model because the miter saw offers high precision and smooth cutting experience. Thus, it can't be said that this model is best for beginners only or professionals only. It is best for anyone who loves to go for woodwork or metal cutting work. So, you can say that DWS779 is an all-arounder when it comes to its performance and capability of cutting.
If you are concerned about the safety aspect of DWS779, it won't disappoint you. Even an inexperienced and novice user can use the Miter saw as it comes up with the best safety standards. All you need to do is to read the user manual before you purchase this model of the Miter saw. The best feature of DWS779 is its versatility. Thus, it can be easily used to several other applications without thinking about compatibility and other features.
Best features of DWS779
Design
When it comes to the design of DWS779, it is very sophisticated and compact. The blades of the miter saw can be tilted both sides to give you a precise and accurate cut as you want. Thus, you don't have to adjust or change any part to get the best cut you want. The back fence of DWS779 allows you to cut 2*16 dimensional wood at up to 90-degrees. Thus, for all angled cuts, all you need to do is to tilt the blade position, and you are good to go.
The Miter saw also comes up with a 15 amp motor that gives it the power and strength to cut even larger blocks of wood. The DWS 779 is one of the easiest models to work with, especially for beginner level users. The setup of the model is pretty simple and straightforward, and it can be assembled easily at your home without going for professional help. The user manual has all the details that are needed to assemble the DWS779 model of the miter saw.
Safety
The safety features of DWS779 are as per the industry standards, and if you use the machine by following all precautions provided under the user manual, there can't be any chances of any unwanted accidents or injuries. The transparent blade of this device allows us to supervise the cut all the time. Thus, it is advisable not to remove the blade guard at any time, as you may call for an injury or accident.
Dust collection
You get a dust collection bag with this model. Although this feature is not too impressive to boast about, unlike all other models of the Miter saw, it adds a feature that provides an easy dust collection process. The best part is that attaching a dust bag is just a piece of cake. You can do it in minutes. If you want the best dust capturing capability, you can go for other DWS models.
Features of DWS 779 that are loved by users
As per many users, versatility and precision are the two best features of DWS779. Another best part about the DWS779 model is that it is not too expensive, and people with small budgets can also purchase this model. In addition to these, you also get the benefit of lots of other features with DWS779 that are present only under expensive models.
The general user impression is great at about DWS779. Most people loved this product and claimed that this DWS779 model of DEWALT miter saw made their work simpler and easier. Some people also have the viewpoint that certain improvements can certainly be made in areas like dust collection and other features, but the overall review of the product is very positive.
The DEWALT DWS779 can be the perfect choice for people who don't want to invest a lot of money in purchasing a premium quality miter saw. For people who love DIYs and who look to purchase a miter saw that can be used occasionally, this can be the perfect choice to make. This model is very affordable and budget-friendly, but this does not mean that it is a piece of junk. It can be used for certain demanding projects too. The best quality of the DWS779 model is that it is made up of best-quality sturdy material, and it will last much longer than you think.
Thus, no matter if you are a professional or a beginner, purchasing the DEWALT DWS779 miter, the saw will never disappoint you.
Since you know about the best features of DWS779, we will move on to other models, and brands of Miter saw that it is said to be as good as the DWS779. So let's review each one of them and then decide which one should you purchase next:
Miter saws that are considered as good as DWS 779
1. Hitachi Compound C10FCG Model miter saw
This model of Hitachi miter saw has several flexible features that make it one of the best in the market. This is a lightweight miter saw that can be used to cut even the biggest blocks of wood. Thus, this miter saw is suitable for even bigger projects. It is almost impossible to find a miter saw at such an affordable price. You get stability, accuracy, fine cutting capability, and reliability with this model of Hitachi miter saw. Thus, this miter saw is considered as good as the DWS779 miter saw. This can be your best purchase if you are looking for some DIY projects this summer. This model of saw comes up with a cutting capability of 0-degrees to 52-degrees. Thus, for all kinds of cutting, you can easily use this miter saw. The motor of this miter saw comes up with 2.57 horsepower, which enables users to work fast. Thus, you can finish a lot of work within a short span.
Pros & Cons
Pros
Budget-friendly
Easy assembling process
Flawless cutting capability
Gives the best performance for furniture making
lightweight
Cons
Some consumer opines that the fence of the miter saw was flimsy
---
2. DEWALT Double Bevel DWS
This 12-inch double bevel miter saw that is power-packed with excellent neatness, accuracy, and strength. This is considered as one of the best miter saws in the market, because of its best quality. You can carry out any kind of small and big projects by using this Dewalt miter saw. The best part about this miter saw is that it not only allows you to cut the wood, but it can also be used to cut moldings and wooden trims. Thus, for DIYs as well as professional woodwork, choose this model of DEWALT miter saw.
The model comes up with a 12-inch blade that can cut wood pieces at 45-degrees as well as 90-degrees. You can get a variety of cutting options by using this saw as it has the best back fence design. With this model of Miter saw, you can bevel left or right, as per your choice. The versatility of this miter saw will help you to create beautiful and innovative pieces of furniture.
The DEWALT bevel DWS miter saw comes up with a 15 amp motor that provides you with 3800 RPM to perform the complex cutting. This Miter saw also enables you to cut thick lumber saw up to 6.75 inches.
Pros & Cons
Pros
Dust collector enabled Miter
3-year warranty on the product
Compact design
Budget-friendly
High-quality alignment
Cons
The weight of the miter saw is slightly heavier as compared to the DWS 779 model
---
3. DEWALT DWS780 MITER SAW
The DWS780 model allows you to give the best clamping as well as accurate cutting of woodblocks. The best part about this saw is very compact, and it allows a hassle-free cutting option. The blade of the DWS780 is strong and big enough to give you a wide cutting experience so that you can use the model for bigger projects too. This miter saw is capable of giving a 90-degree straight cutting experience. The worker can easily cut up to 0-degree to 49-degrees. The 12-inch blade of the saw is suitable enough for professionals as well as beginners. You should get the DEWALT MITER SAW model DWS780, as it lasts long enough, and also it is easy to use. You don't need to recalibrate the saw after changing the blade because it comes up with a high-tech laser system. So, for all delicate and heavy woodwork, you should choose the DWS780 Miter saw.
Pros & Cons
Pros
Comes up with a unique gearbox
Offers a unified crosscutting capability
Vertical cutting enabled
90-days money-back guarantee
Three-year warranty
Cons
You don't get this model of Miter saw with a stand
---
4. TruePower Mini Miter Plus Cut Off Saw
This is another best miter saw available in the market. This miter saw is as good as the DWS779 model, and thus, many users purchase this model every year. If you love DIY woodwork projects, this can be the best buy for you. When you are undergoing woodwork, you may not always want to cut out large pieces. Sometimes you need small pieces of wood. In this case, the TruePower Miter saw can be the best choice for you. The best part about this model is that it will help you to cut other materials too. Thus, you can cut wood, copper, brass, and aluminum using this Miter saw.
The miter saw comes up with a powerful motor that offers 7800 RPM speed. The reverse blade of the saw allows you to produce variations while cutting. The design of this model is compact and lightweight. Thus, you can carry it anywhere you want as per your convenience. If you are excited about purchasing this miter saw, you should also know that this is the best Miter saw of 2019. If you are also concerned about the color of the miter saw, you have got great choices over there. So, you can choose black, yellow, orange, or even peach.
This miter saw is considered great for projects like wooden tiles, picture frames, and also stained glass projects.
Pros & Cons
Pros
Affordable
Easy to install and use
Lightweight
Suitable for small projects
The durable and powerful motor of the Miter saw
Cons
This miter saw is not too good for bigger projects
---
5. Evolution RAGE3 Miter saw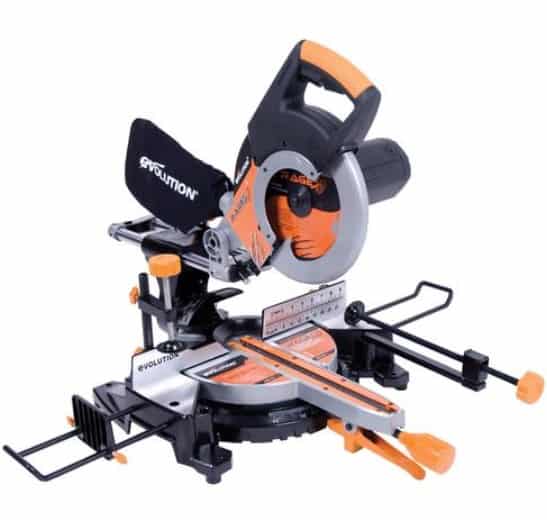 This miter saw can help you to cut materials other than wood like aluminum, plastic, and mild steel. This saw can be called a pro-grade tool, but it is considered as one of the best Miter saw in the market. Most users love this Miter saw because it is easy to use and also weighs less.
This miter saw can cut 6mm steel, without creating any spark or burrs. Thus, it is very easy and safe to use. You won't feel even slightest heat while using this miter saw. The blade of this miter saw is made up of tungsten, and it will cut your material with the best accuracy and precision. You will get 45-degrees cutting on the left as well as right side by using this Miter saw. The best feature of this saw, which is not present in DWS 779, is that it allows you to set depth as per your cutting style. Thus, for domestic and DIY projects, this can be your perfect purchase.
You can also use different types of blades with this saw, but you need to purchase the blades separately. The reviews prove that this is one of the best miters saw, and you can easily buy this saw to know best.
Pros & Cons
Pros
Helps you cut ferrous and non-ferrous material
Comes up with effective accessories
Offers precise cutting
Comes up with a durable stand
Legs of the stand are foldable
Easy to carry
Cons
Dust collection system of this model is not as great as the DWS 779 model
---
How to Use a Miter Saw?
The best miter saws are made and designed to give angled cuts for molding and trim work. It has many other carpentry applications too. Once you attach the best blades to this Miter saw, it will become more versatile in performance. The miter tools are the essential arsenal that should be present in the tool kit of every carpenter.
Follow these steps to use a miter saw:
Step 1: keep safety in mind
It is very important to keep your safety in mind before you begin using your miter saw.
Begin the process and follow these instructions:
Connect your Miter saw to a power supply and switch on the device when you are ready.
Measure the cuts you want to make. You can use a graphite pencil to do so.
Place the board on the saw and push against the fence that is located at the back of the base.
You need to depress the lock handle and turn the blade to the angle you want.
Then, tighten the handle.
Lower the handle to know the place where wood meets the blade.
Engage the trigger and let the meter reach its optimal speed. The speed of the motor may vary depending on the saw brand.
Do not let the blade apply too much pressure; let the saw do its job.
Now, you need to release the trigger when you get your desired cut.
Let the blade stop completely before you raise the handle.
Step 2: Proper setup
Keep the Miter saw unplugged when you are not using it
Keep the Miter saw to a secure location and a stable work surface.
Always read the manufacturer's instructions before you start cutting and using the Miter saw.
Put your hands away from the moving blades; it can cause injury and accidents.
Never wear loose clothes when operating a miter saw.
To keep your eyes safe, wear safety glasses.
Even the bystanders should follow these safety instructions.
Step 3: Locking and unlocking miter saw
Most miter saws have power locks, and they lock up once the work is done. But, you should read the instructions provided by the manufacturer to complete the locking and unlocking process.
You can lock the trigger by inserting a pin through the hole that will prevent it from getting engaged when you are not working with the Miter saw.
You don't need to worry about the up and down motion of the handle, as it is secured with a pin that is located at the top of the tool's arm.
On the saw models with sliding arms, it can be restricted by tightening the wingnut.
The miter gauge needs to be unlocked to adjust the angle and to loosen up the knob.
Follow all these steps to use the miter saw. In addition to following these steps, you should always read the user manual that informs you about using the miter saw.
Points to be considered when purchasing a miter saw
It can be a challenging task to choose the best miter saw. But you will help you choose the best Miter saw as per your requirement. Following are some of the points that you need to consider when purchasing a miter saw:
Budget
Your budget should be an important aspect when choosing the best miter saw. Choose a miter saw that you could easily afford. If you are running a big woodwork business, you can spend a lot of money, but for domestic and DIY purposes, it is best to purchase a budget-friendly miter saw.
Material to cut
Not all miter saw can cut all kinds of material. Generally, a miter saw is used to cut wood, but if you want to cut metal or plastic, you can look for a miter saw that has the feature to cut other materials.
Blade
The blade is an important part of a miter saw. If you perform versatile tasks, it is important to look at the blade before you purchase it. Also, pay attention to the RPM speed of the blade before making the purchase. Look for a miter saw that offers 2500 RPM to 5500RPM blade speed.
Weight
Heavyweight, as well as lightweight Miter, saw, are available in the market, and you can choose any one of them. The weight of a standard miter saw can vary between 25 pounds to 65 pounds. If you are engaged in a work that requires you to move from one place to another, it is important to choose a lightweight miter saw. But, if you work with DIY projects at your home, you can even go for a heavyweight saw. Heavyweight does not mean that it will be the best quality. Choose the Miter saw as per your requirement.
Frequently Asked Questions about a Miter Saw
Q. Are miter saws dangerous to use?
A. Miter saws are generally very useful as it can help you with different types of woodwork. But sometimes these tools can also be dangerous to work with. These tools are not too dangerous if you pay close attention and be attentive when you are working with it. Thus, for people who are attentive and who know all about miter saw, this can't be called a dangerous tool to work with.
Q. Is a sliding miter saw better?
A. The biggest advantage of a sliding miter saw is that it comes up with a blade that can move forward and backward easily. Thus, it gives you a better and more smoother cut when you are working with it. But the true advantage of all types of miter saws can be determined only after determining your requirement.
Q. What can you do with a miter saw?
A. A miter song can be used to make angular as well as angular cuts in wood or other material like aluminum and plastic. Different cuts are possible with a miter saw that includes crosscuts, angular cuts, and different combinations of cuts.
Q. Do I need a miter saw if I already have a circular saw?
The A. circular tool is a versatile tool that helps you to make different types of cuts. But the only disadvantage with a circular saw is that it doesn't provide enough accuracy. On the other hand, a miter saw provides accuracy and maximum precision when you are cutting any material.
Q. What is a double Bevel miter saw?
A. A double bevel miter saw is one that can provide you bevel cuts in both left and right direction. This means that when you are using a bevel miter saw, and you don't have to move or flip your work to make a cut. Thus, it offers an easy and less complicated way of cutting.
Conclusion
Miter saws enable you to make cuts of all sizes. These saws not only help you to cut wood, but it also allows you to cut other materials like metals and plastic. So, if you are looking for a construction or DIY project in your home, you should purchase the best miter saw. When it comes to choosing the best Miter, saw, making a choice can be pretty difficult. All the list of miter saws provided are best and they are as good as the DWS779 Model of the DEWALT brand. Some saws have some better features while some have few. The choice of miter saw should entirely depend on your personal preference and requirement. So, make your choice wisely and read this guide properly to purchase the Miter saw that is as good as the DWS779 model.